Art at NEMA
NEMA Chicago boldly embraces the brand's commitment to art. From lobbies to residential corridors and amenity areas, NEMA is adorned with a variety of multi-media pieces by local and renowned artists, often showcasing local inspiration, and always thoughtfully curated to create an elevated sense of home for residents.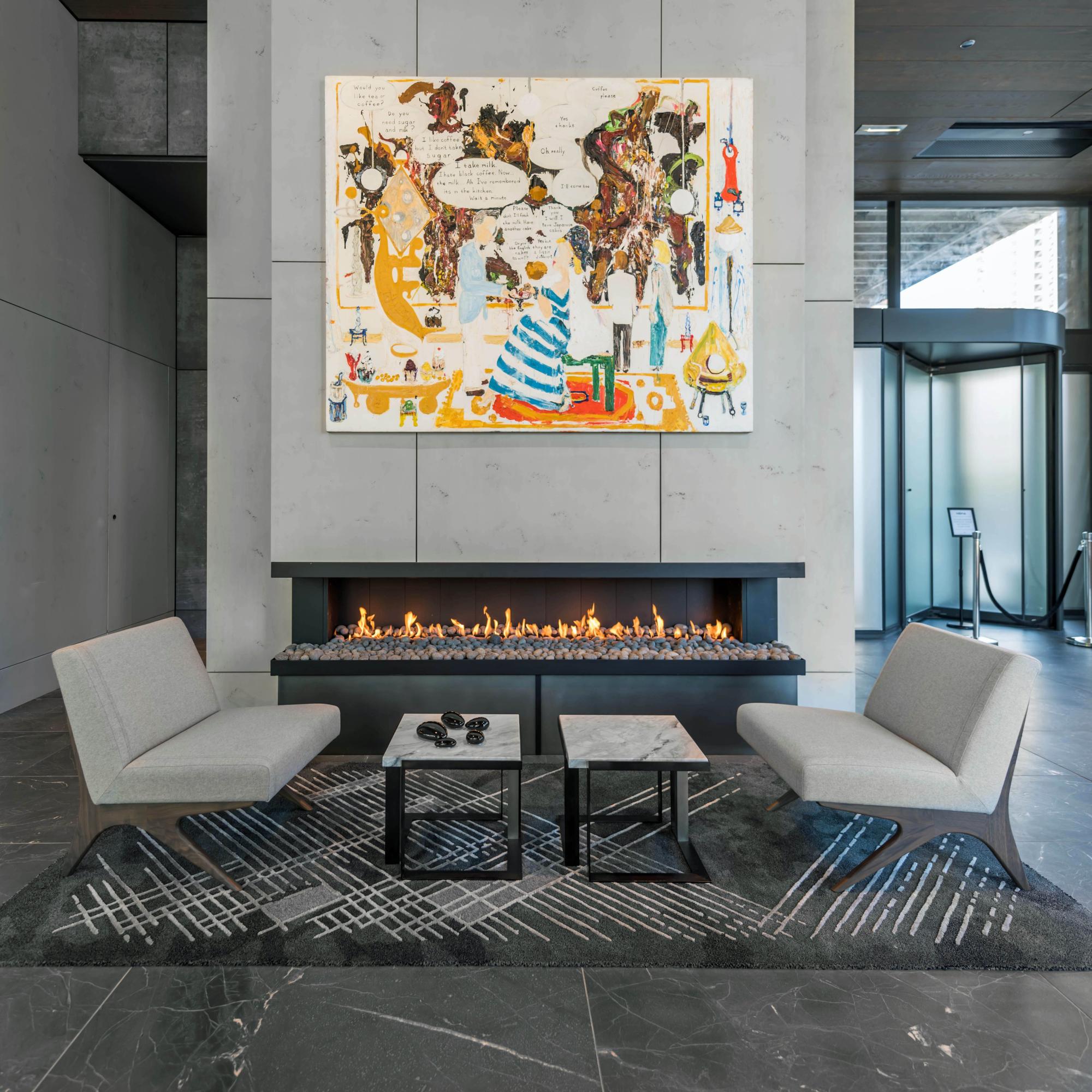 THOMAS TROSCH
Japanese Lesson #23, 1993
Oil on canvas
Thomas Trosch's oil paintings are luscious and theatrical. With a conspicuous hand-made labor, he mixes purses, dresses, lamps, coffee tables, sculptures, abstract paintings, and appropriated texts while scrapes, scumbles and thick impastos are applied in a dizzying fashion that perfectly describe the circus-like existence of art and high society. There is also a humor in the mixture of chance and control; in the way everything always has the good manner to dissolve into a brilliant passage of painterly excess. Evoking the energy of social interaction that characterizes the community at NEMA, Japanese Lesson #23 illustrates a simple gathering scene as a vivid and eccentric abstract. Intuitively rendered and lavishly painted, the piece suggests multiple levels of reading. Trosch further invites our collective wink and a nod by incorporating text that he has appropriated from a Japanese to English translation book.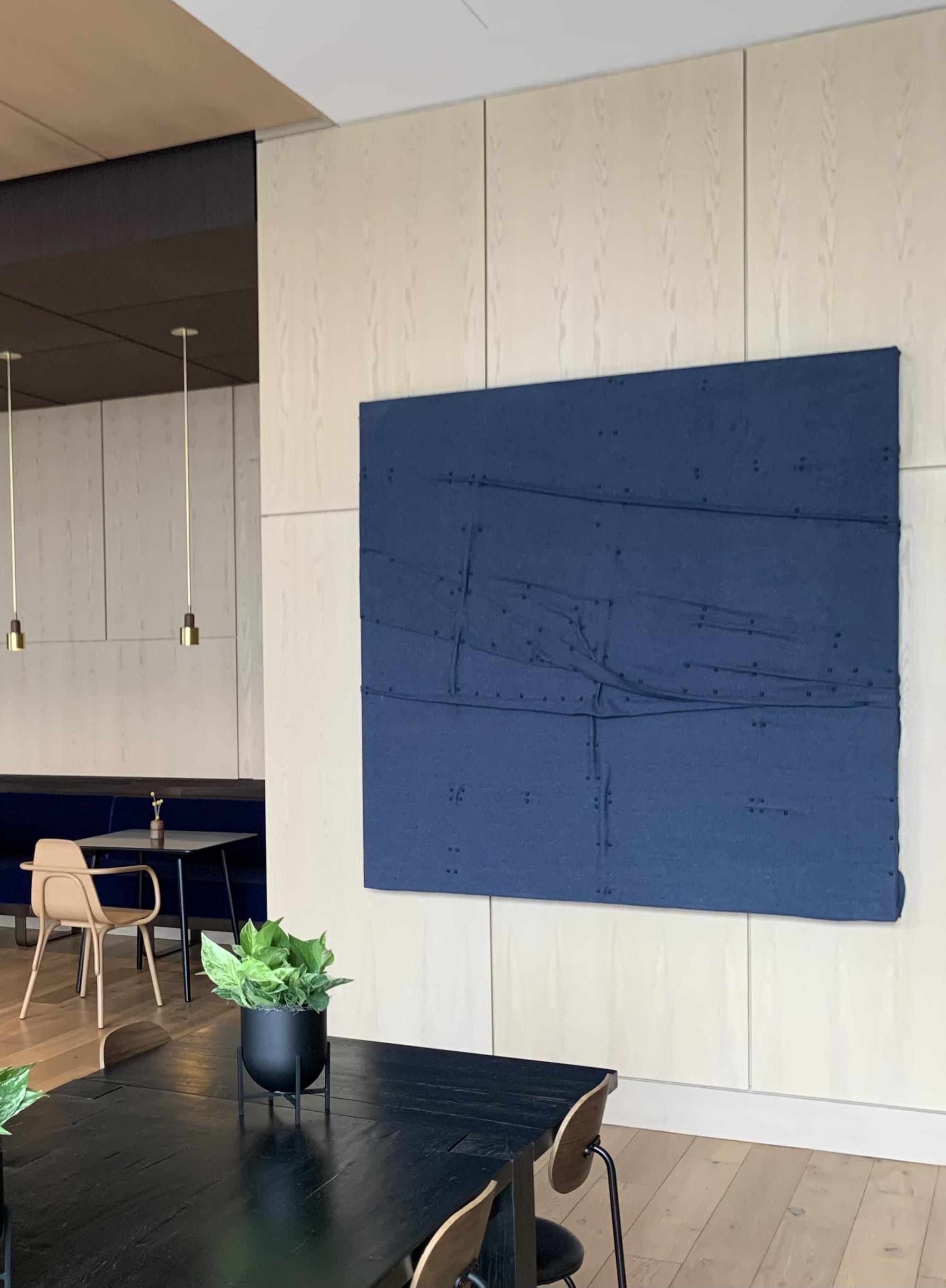 TOM BURR
Two Blue Night Stands, 2013
Wool blanket and upholstery tacks on plywood
Tom Burr's Two Blue Night Stands exudes the velvety warmth of its wool blankets, an homage to Chicago winters. In addition, the upholstery tacks—usually employed in house décor—allude to domesticity and interiority, further connecting the piece to NEMA as a warm home for Chicago residents. The structure of the work vacillates between media, from painting in its gestural folds to sculpture in its physically intensive construction and three-dimensional projection. Burr's title, like the wool, layers and folds meaning upon itself. Poetic and rhythmic, Two Blue Night Stands immediately implies the doubling of a single blue nightstand and, in turn, a one night stand. The plural calls to mind bedroom furniture and the singular actions taking place alongside it.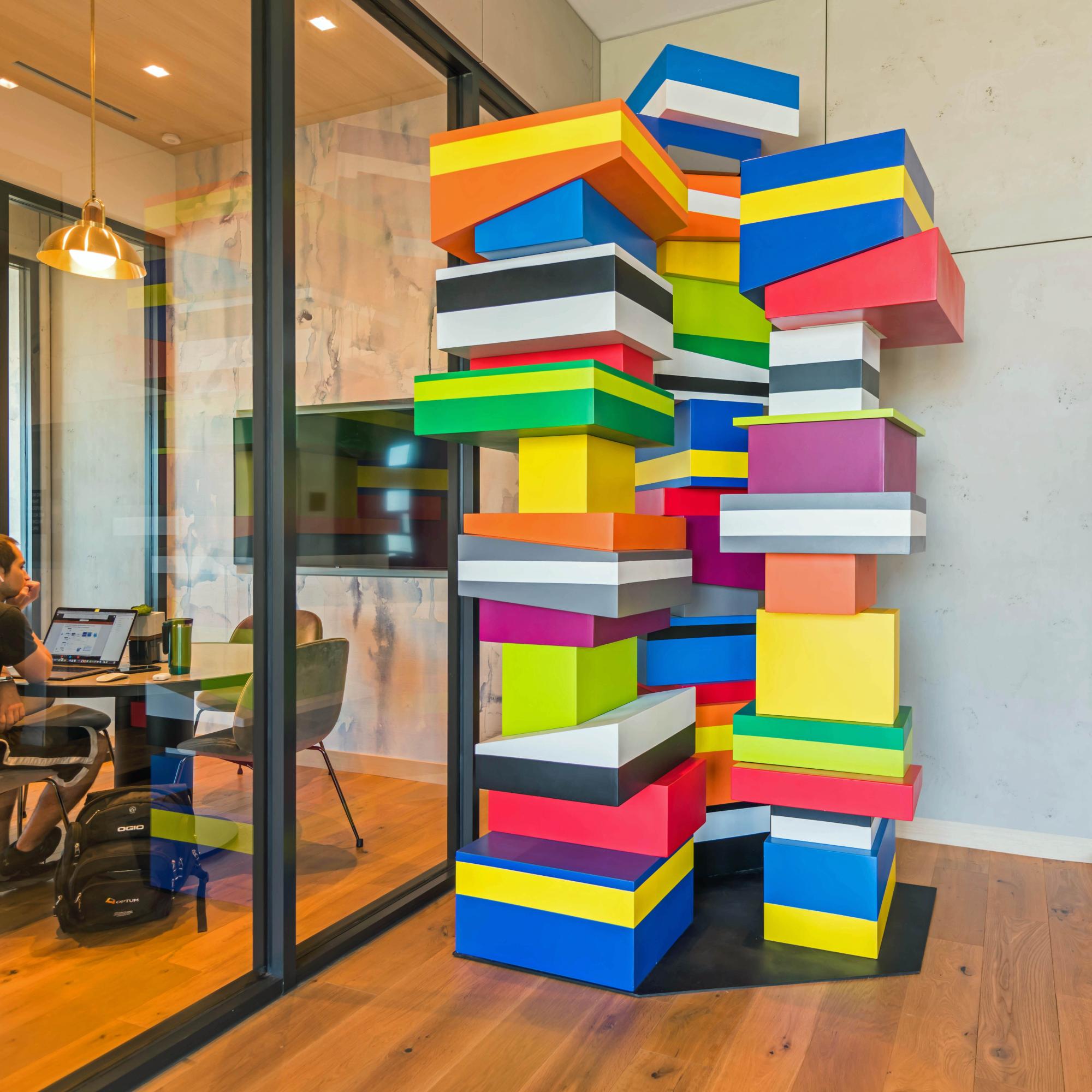 CHRIS NELKE
Color Block Towers, 2019
Sculpture, painted blocks on metal
Chicago's skyline is replete with skyscrapers that have been engineered using cutting-edge techniques. Witness the gravity-defying narrow base of 150 North Riverside, or River Point with its distinctive arched base. Sculptural artist Chris Nelke created his own take on Chicago's architectural wonders on a smaller, more playful scale. Nelke used painted blocks on a metal base to rise to the challenge with these Color Block Towers.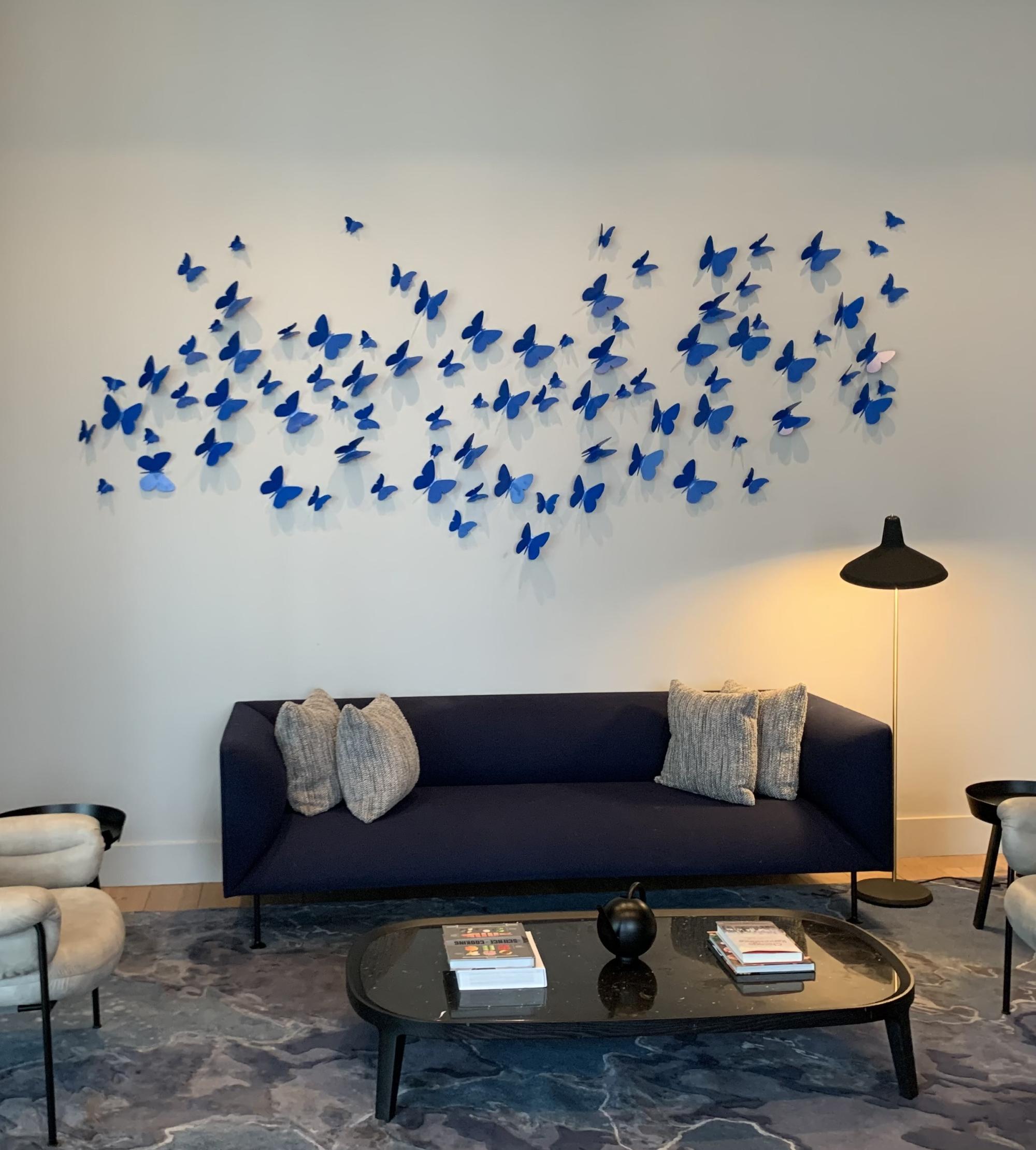 JOHN JOHNSON
Blue Flutter, 2019
Powder-coated, laser-cut metal
A vibrant city like Chicago offers its citizens the freedom to soar into a promising future. Midwestern metal sculptor John Johnson crafted each butterfly by hand, arranging and mounting them into an artful formation, using shadows to give an appearance of fluttering motion. A native of the Midwest, John Johnson now lives in Los Angeles, where he has studied theater at the American Academy of Dramatic Arts and works as a full-time artist and active musician. He grew up less than 200 miles from Chicago in Indianapolis, studying various art forms in his youth and art history at Indiana University.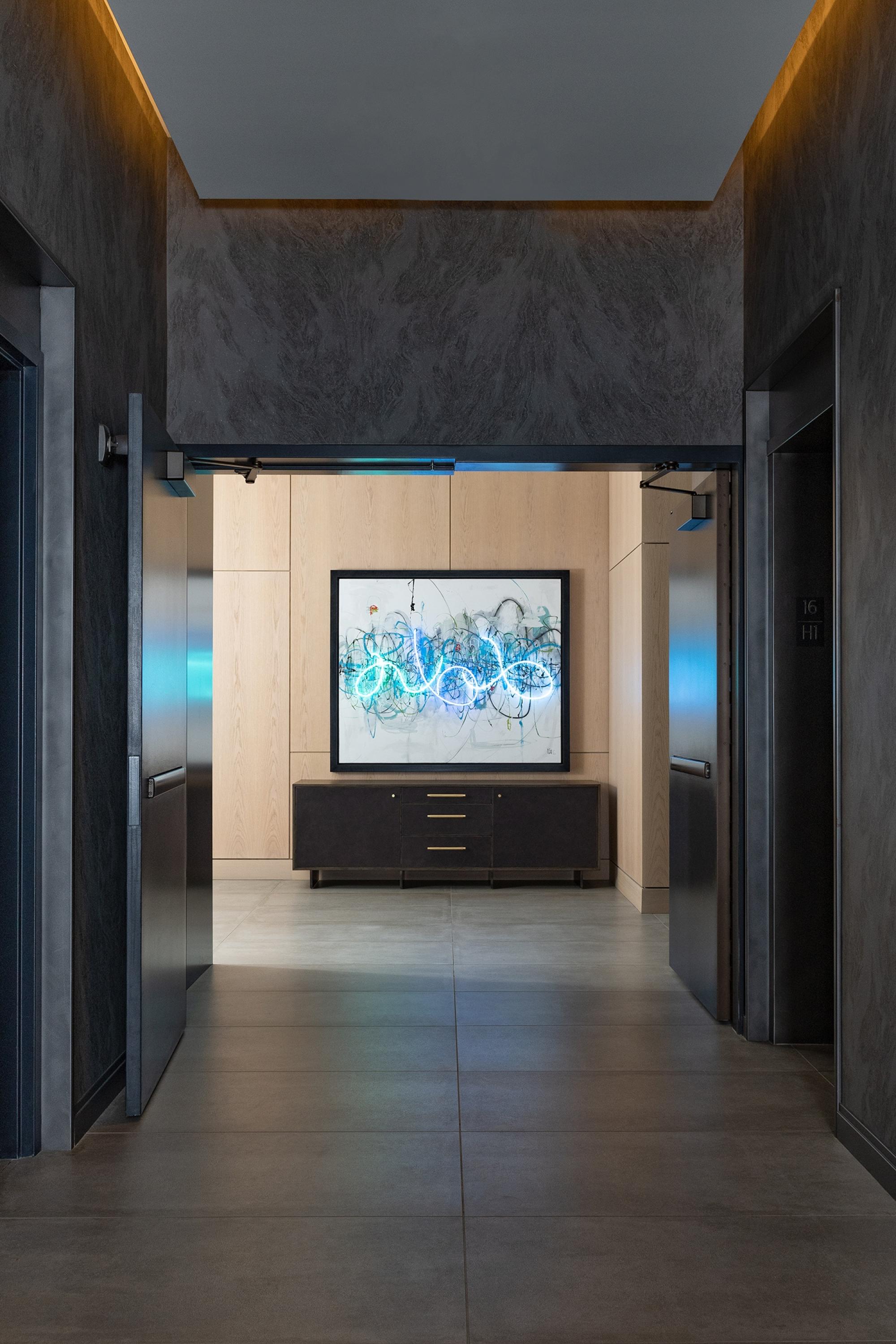 MIA STONE, LISA SCHULTE
Neon Frenzy, 2018
Acrylic and neon on canvas
"The Windy City" is a well-earned nickname. In an artful collaboration, artist Mia Stone uses acrylic paint to create an abstract representation of Chicago's wild breezes, while sculptor Lisa Schulte adds a layer of blue neon, conveying the radiance of midday and the romance of evening.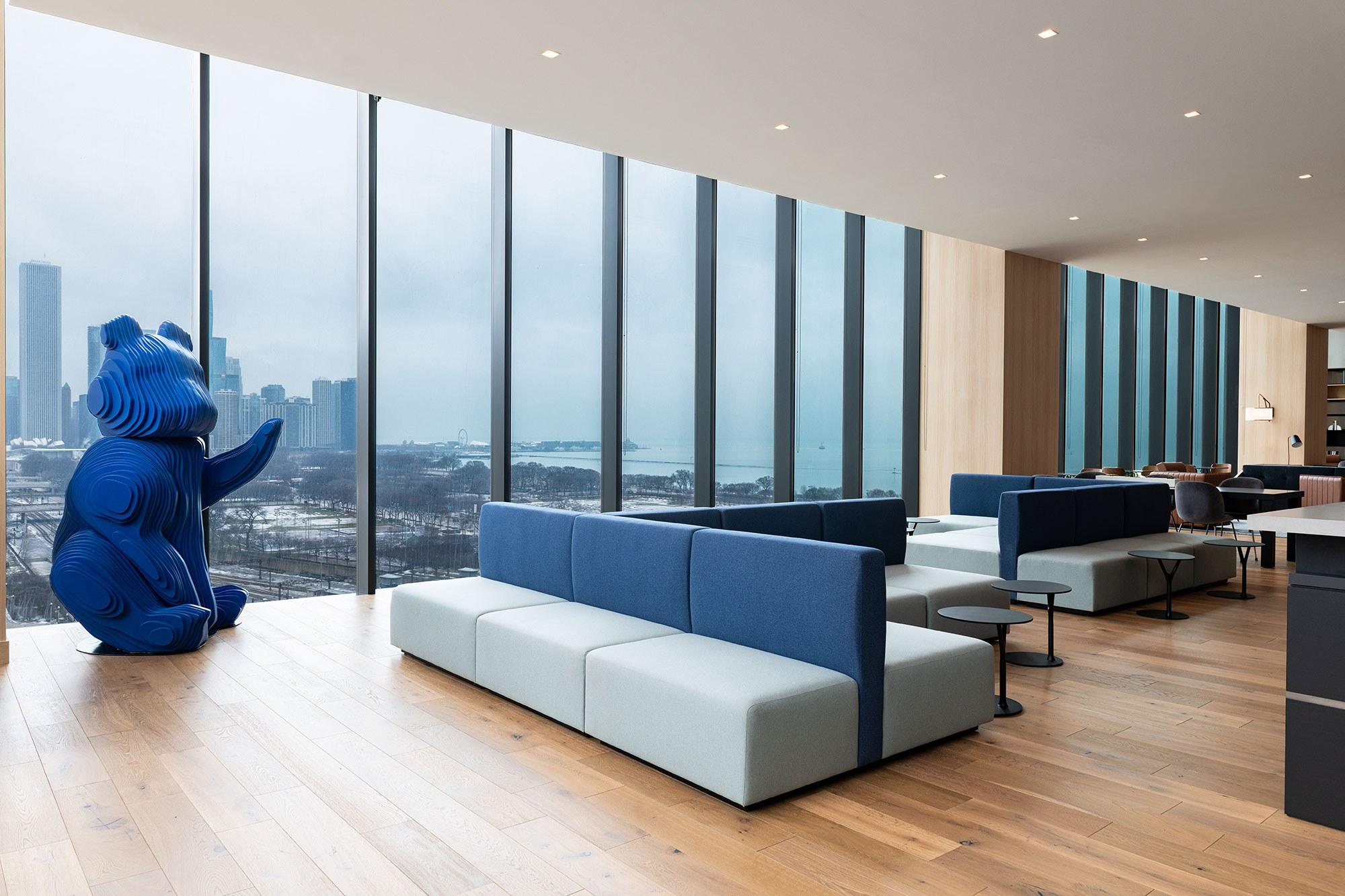 CHRIS NELKE
Blue Bear, 2018
Sculpture, painted layered medium-density fiberboard
Ah, the highs and the heartbreaks of being a Chicago Cubs baseball fan. After waiting over a century for a World Series victory, the Cubs won the championship in 2016, sending die-hard fans into long-awaited bliss. Here the Cubs' mascot, sculpted by artist Chris Nelke from stacked and layered fiberboard, is a joyful expression of the team's beloved legacy.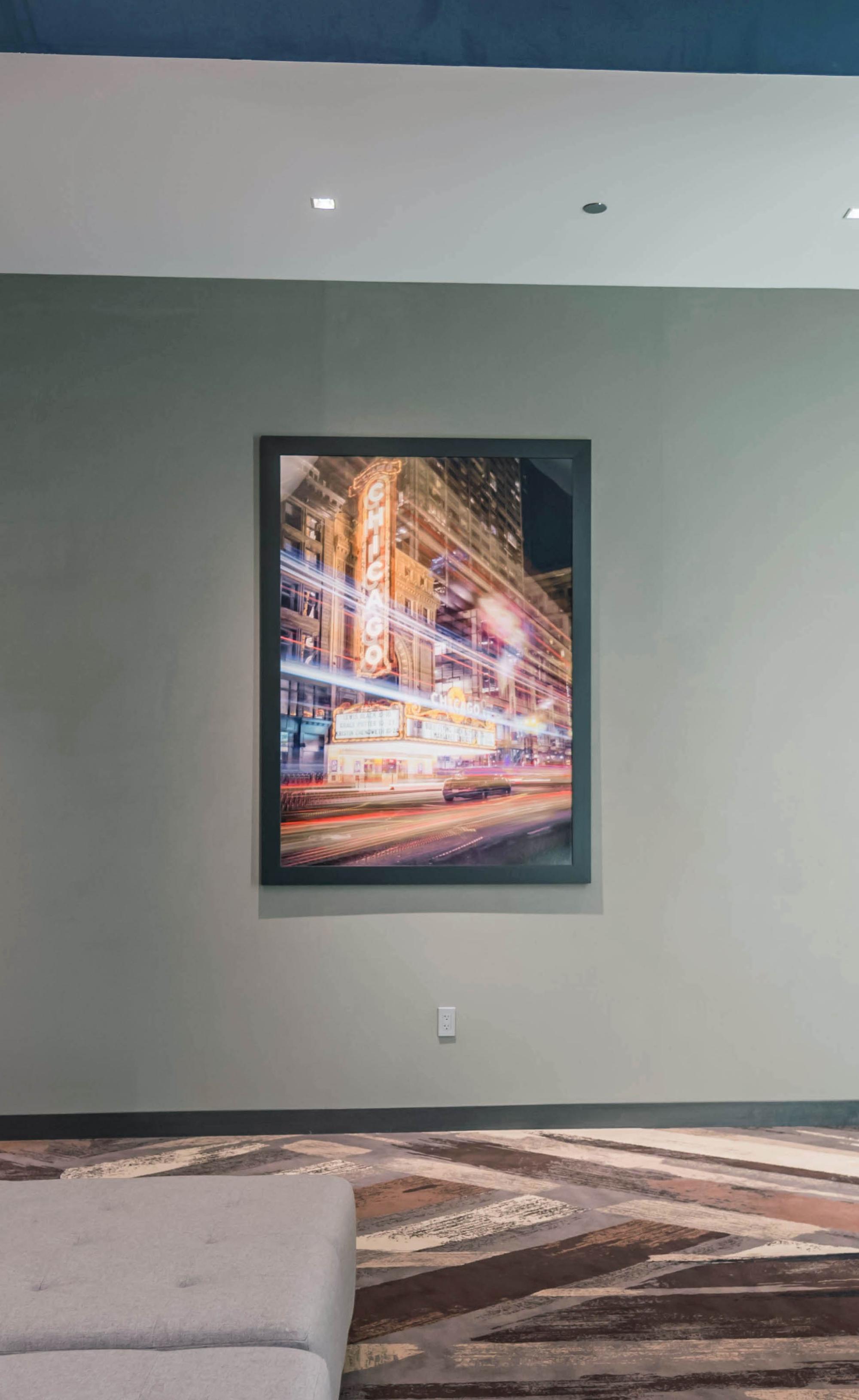 LIZ LAGUMINA
Night Vision, 2018
Photography on paper, framed
The Chicago Theatre is a classic American movie palace designed in 1921 to transport movie-goers to another time and place. Here in "Night Vision," graphic artist Liz LaGumina pays tribute to this architectural gem, digitally manipulating her photograph to convey the rushing hum of Chicago.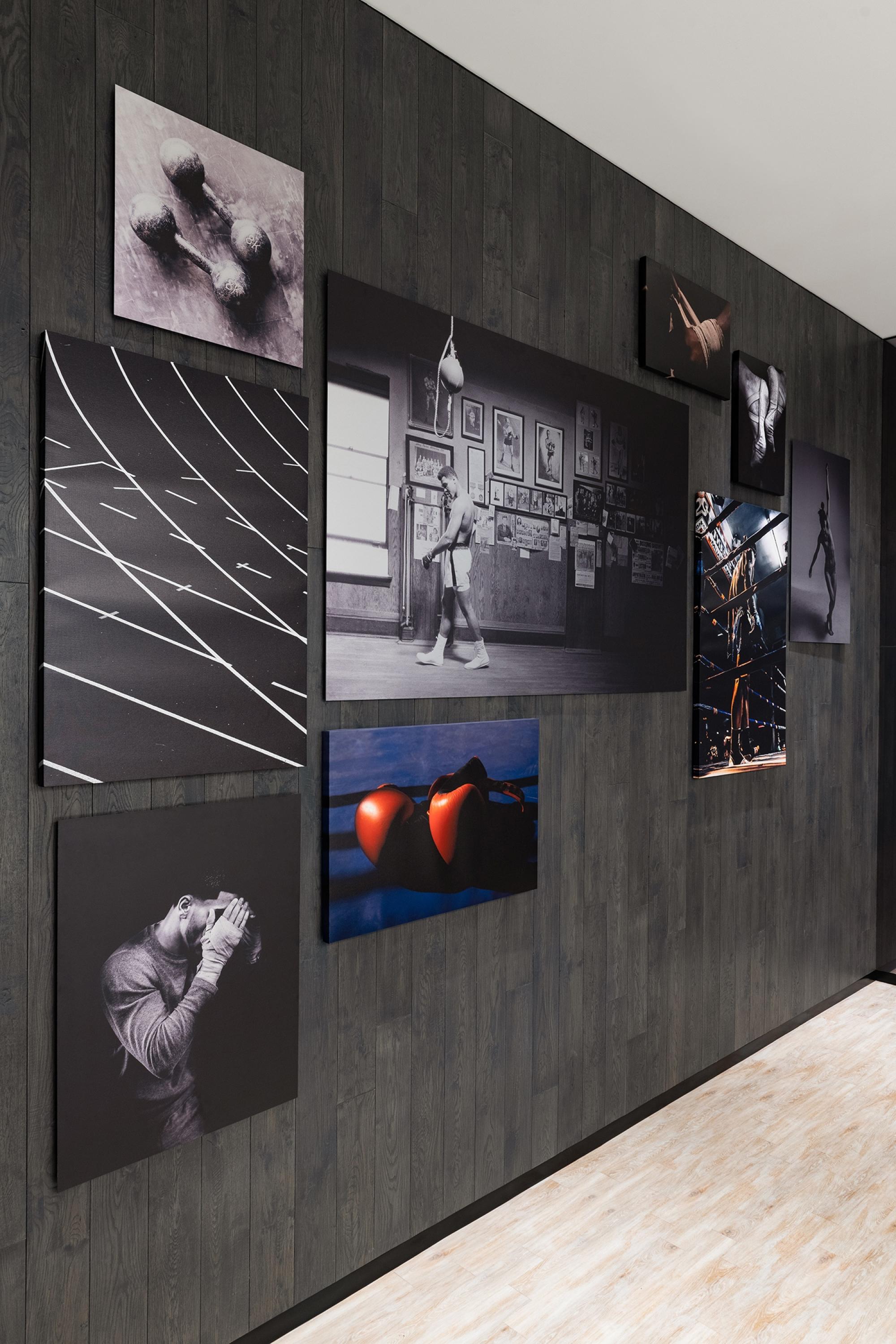 THOMAS HOEPKER
Muhammad Ali, 1966
Vintage photography print, framed
World renowned photographer Thomas Hoepker captured Muhammad Ali in his Chicago boxing studio in 1966. Known for his loud and profound personality, this image captures a more quiet, private side of Ali. During the time this photo was taken, Ali was the boxing world heavy weight champion and would go on to win the title again in 1970, further securing his status as one of the greatest of all time in the sport.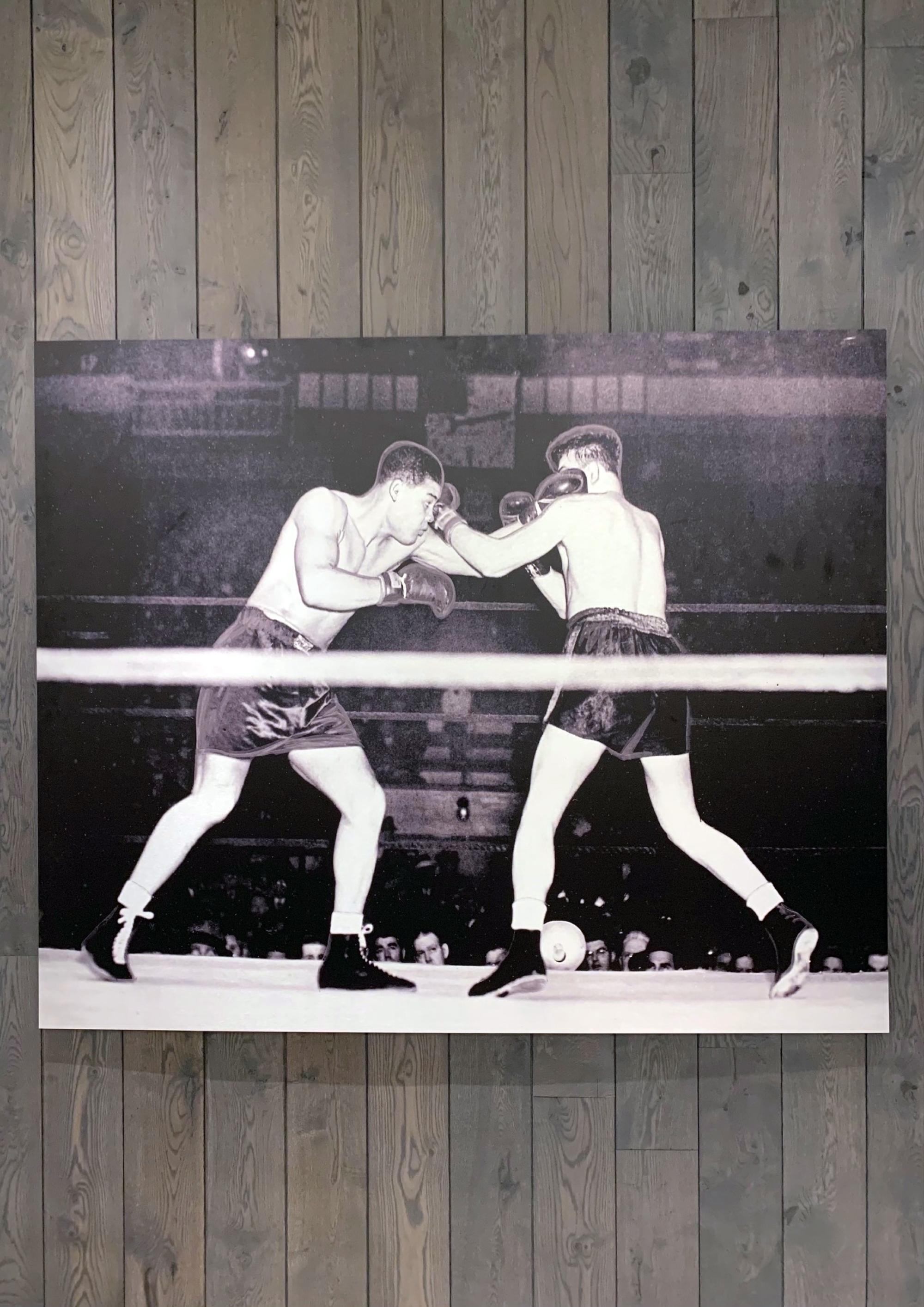 ANONYMOUS PHOTOGRAPHER
Joe Louis vs. Al McCoy, 1940
Vintage photography print on metal
American boxer Joe Louis became the world heavyweight champion on June 22, 1937, when he defeated James J. Braddock in eight rounds in Chicago's Comiskey Park. Several of Louis' earliest professional fights occurred on the South Side of Chicago, where his name became legend following a 24-0 start. In this photo, taken on December 16, 1940, Louis fought Al McCoy to retain his heavyweight title for the 12th consecutive time. Performing in front of a crowd of over 13,000, Louis stole the show. By the fifth round, McCoy retired early to his corner in defeat.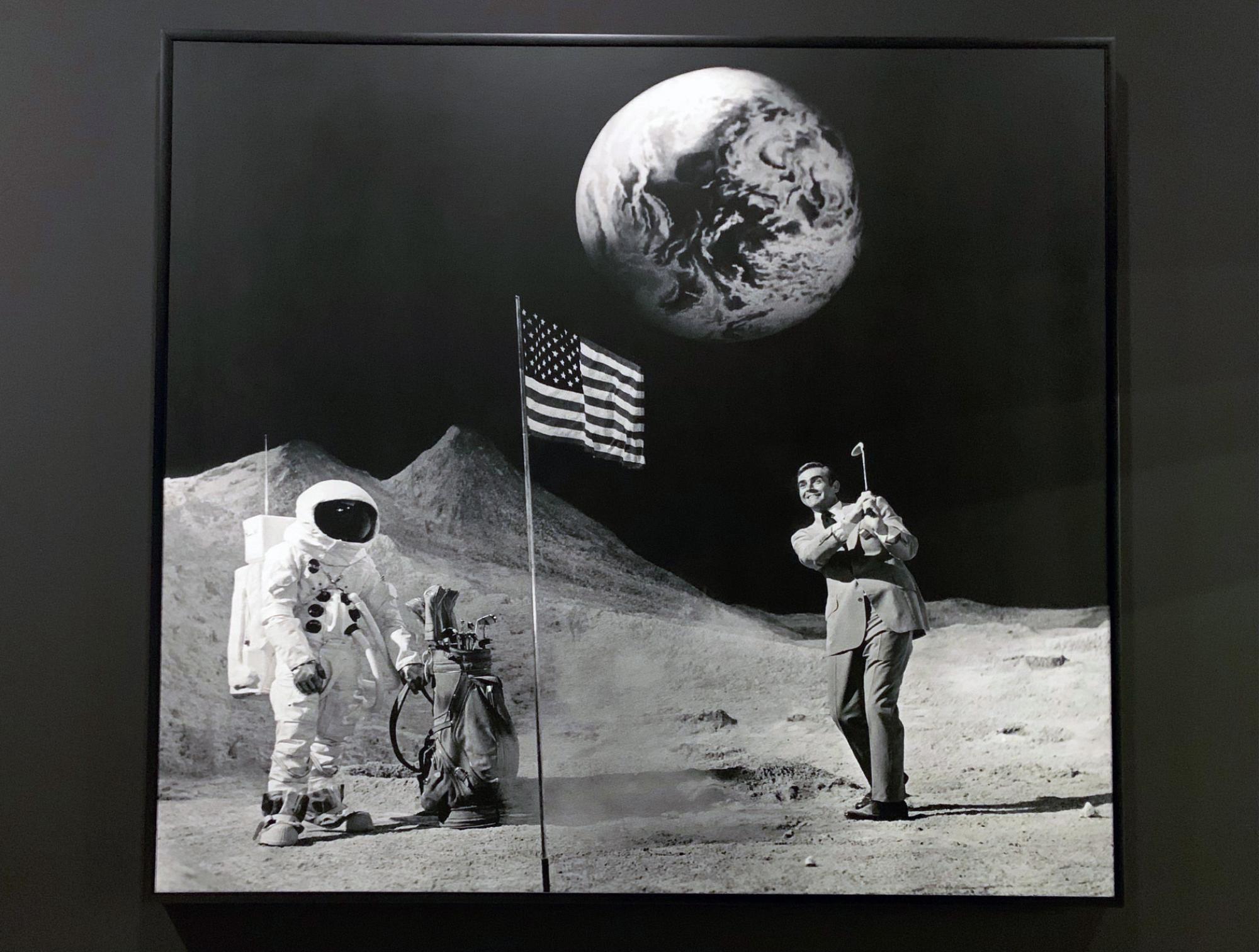 TERRY O'NEILL
Bond on the Moon, 1971
Vintage photography print on canvas, framed
Sean Connery, while filming the notable James Bond movie Diamonds Are Forever, is caught practicing his golf swing while on set. Likewise, NEMA provides residents an opportunity to play golf in an otherwise unexpected location: home. This image, also depicting the scene of the moon landing, portrays America as a pioneer of space travel.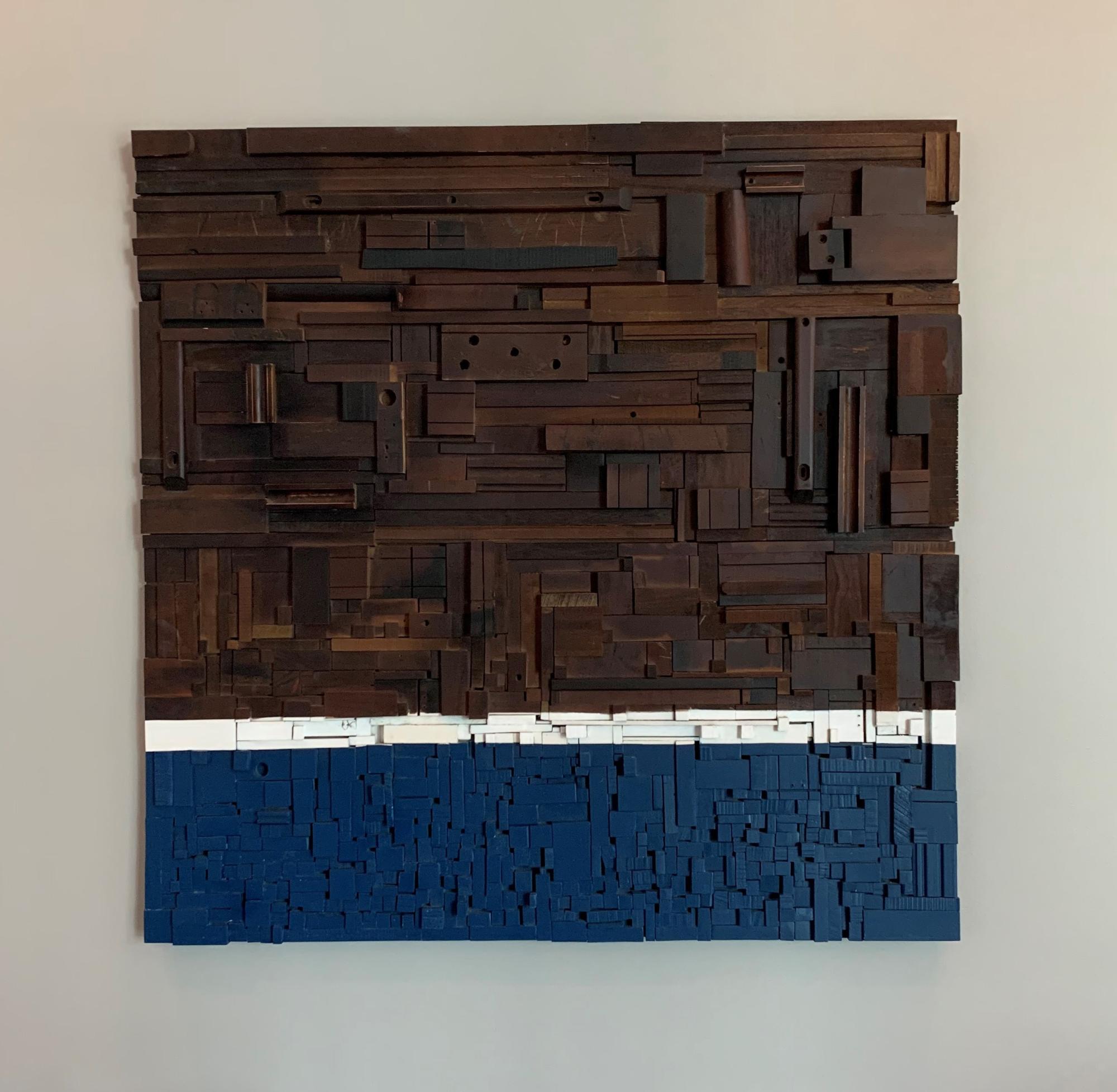 SCOTT TROXEL
Abstract, 2019
Wood and canvas, mixed media
The Great Fire of 1871 wiped out 2,100 acres of central Chicago. Yet the city rose like phoenix from the ashes, tripling its population over the next 20 years. In this piece, mixed media fine artist Scott Troxel pays homage to the layers of the city — built upon each other over many generations.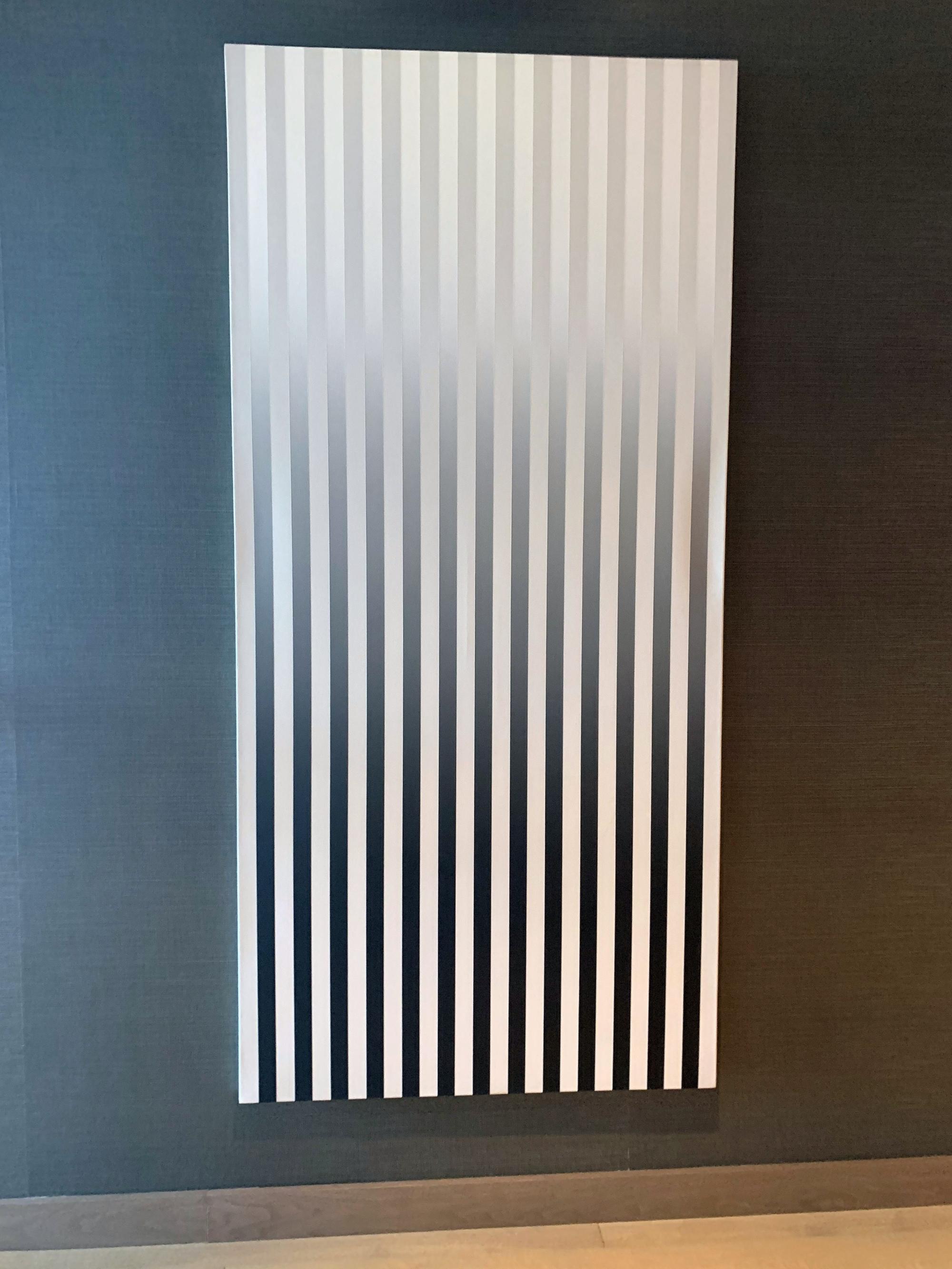 PHILIPPE DECRAUZAT
Slow Motion, 2018
Acrylic on canvas
NEMA's location directly across from the Aon Center provides one of the best views of Chicago's third tallest building, while Philippe Decrauzat's Slow Motion evokes this modernist icon. The Aon Center, originally named "Big Stan" due to it being the home of the Standard Oil Company of Indiana, is built using a structural system of perimeter columns that define a tube. Decrauzat, known for embedding iconic references from architecture in his work, manipulates a multitude of such lines to synchronize in undulating, overlapping and interwoven motifs, and in so doing achieves an array of kinetic optics that provoke both the eye and body.